BidforX: A solution for Indian crypto-investors by Bitbns, Disruption of the retail payments
Bitbns an Indian exchange introduced a disruptive solution to the issue of ban on cryptocurrencies in India. BidforX an online auction platform is on the way of changing the way Indians perceive cryptocurrencies.
What is BidforX?
BidforX is a new website by Bitbns that auctions premium products to the highest bid amongst all bidder. The bids, in this case, are as low as 1% of the original product value and are entitled to legal wagering. According to Coincrunch, an instance would be, the phone 'Redmi Note 5' being sold for Rs. 10.92 [$0.16] to the winning bidder.
The Reserve Bank of India [RBI] petitioned a ban against cryptocurrencies, which prohibited banks from providing services to cryptocurrency exchanges. The ban was discussed previously in two meetings, which were held on 3rd and 20th July respectively. As per the recent reports released on 20th July, the ban had not been laid off and petition of pleadings has been moved to 11th September.
How is BidforX a solution to India's Ban on Cryptocurrencies?
Instead of using the P2P route, Bitbns uses bidding. To deposit INR on Bitbns, the exchange requires the user to convert the money on the BidforX voucher. The deposited INR is then converted into redeemable vouchers, which will later be added to Bitbns' crypto-trading platform.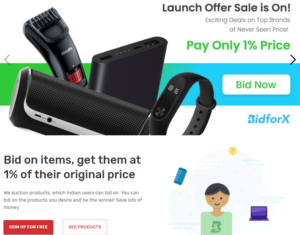 Bitbns' BidforX, an online auction platform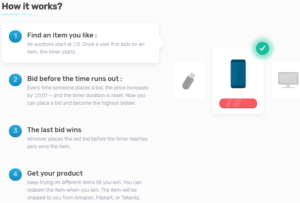 How BidforX works
The platform provides a unique and smart way of handling your crypto-assets. After finding what you desire to place a bid on, things start to get interesting. A bid value is set at 0 and the bid time is also fixed. The only thing you have to ensure is that you place the last bid in order to win.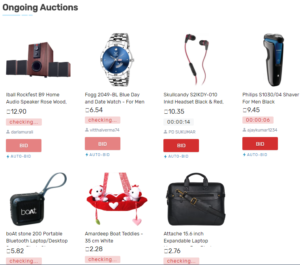 An ongoing auction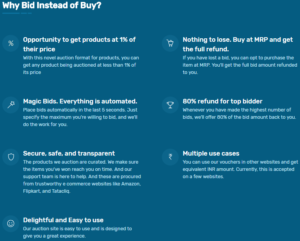 Recently, Huobi OTC announced the launch of its peer-to-peer [P2P] exchange in India. The team emailed its Indian clients and explained the features on the P2P exchange for Indian crypto-traders. The exchange enables zero transaction fee for BTC, ETH, and USDT. Huobi also promised its users to seamlessly trade cryptocurrencies with 24/7 customer support.
Koinex, an Indian exchange platform followed the trail as WazirX, one of the leading cryptocurrency exchange platforms of India made an announcement regarding the exclusive and "most legal" P2P service. Both these platforms will maintain the service through an escrow account.
---
We believe that BidforX can venture out and explore itself in the retail payment industry, being one of the first to try out a payment option in cryptocurrencies in such times of peril which, is followed by the RBI Ban on cryptocurrencies giving the company a definite first-mover-advantage.
---
Some extracts of the artice were taken from AMB Crypto
Click Here for BidforX
---
Image Source for the featured image: searchengineland.com
---
Disclaimer: The opinions presented here are of the Authors. Readers should do their own due diligence before taking any actions related to the promoted company or any of its affiliates or services. CoinScenario.com is not responsible, directly or indirectly, for any damage or loss caused or alleged to be caused by or in connection with the use of or reliance on any content, goods or services mentioned in the press release.
Here is a list of Contributors on Coin Scenario. If you wish to submit a Press Release, please Click Here. If you wish to Advertise with us, please Click Here.