Follow up interview with Ian Kane of Ternio - the world's fastest blockchain!
A few months ago CoinScenario featured a story on Ternio, a blockchain startup looking to disrupt the digital advertising industry.  In this follow-up story, we check in with co-founder Ian Kane to see the progress Ternio has made and what the future has in store for Ternio.
Can you give a brief overview of Ternio for readers who may not be familiar with Ternio?
Ternio has built Lexicon, a proprietary blockchain capable of over 1 million transactions per second.  Lexicon is fully decentralized and all transactions are on-chain. Ternio will use Lexicon to disrupt many industries, starting with the $224 billion per year programmatic digital advertising market.  In digital advertising, incentives are not aligned causing both advertisers and publishers to feel they are on the losing side of the deal. Ternio provides a verifiable and decentralized asset (TERN) that empowers advertisers to verify spend through each intermediary in the ad supply chain and gives publishers the assurance of being paid on delivery.  All transactions occur on the Lexicon blockchain and flow exclusively through our TERN token.
What Milestones have been achieved so far?
We have been busy!  My co-founders and I spent the early part of 2018 setting up our office in Atlanta, growing our team, and attending conferences in the US, London, Dubai, and Hong Kong.  For example, Daniel was invited to speak at the Dubai Blockchain Innovation Summit.   We also announced partnerships with RPM Ad Agency and Ignition One!
Most important, Ternio was able to conduct our transaction per second test showing over 1 million transactions per second.  We hired a blockchain security firm to meet with our team down in Atlanta, audit our code, and provide a 3rd party verification to support Ternio's claim.  You can read the full audit report on Ternio's website.  As of today, Ternio is the only company to have 3rd party verification of our tech, team, and performance ability!
We also conducted our token sale which ran from June 1st to June 15th.  It was a huge success and we hit the soft cap of $3 million during our presale.  Ternio now has the resources we need to deploy our Lexicon technology in the programmatic marketplace.
Which exchanges have listed TERN so far and other on the roadmap?
We know liquidity is important so we are now trading on Stellar Term and BitForex.   We have also been approved by two top 10 exchanges and two additional top 20 exchanges.  We can't make the announcement yet, but will be announcing multiple new exchanges in the coming weeks!
What is the Product Roadmap for the rest of the year including the key milestones that you are focusing on?
The most important milestone for Ternio is going to be integrating the Lexicon framework into our partners like RPM and Ignition One so they immediately get the benefits of blockchain for their advertising clients.  It's going to be paramount for us to show the real-world execution of our tech and that is where all of our energy is focused right now.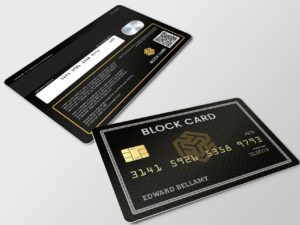 Later this year Ternio will also be rolling out our Block Card ™.  The Block Card™ is a physical card that allows anyone who uses it to upload BTC, ETH, or TERN and spend it just like they would at any store that allows credit card transactions.   We are working with our partner now to help facilitate this, but this is a very exciting product for us as well with more details coming.
Which Industry Partnerships have been announced so far?
In the past few weeks, we announced two very important partnerships with RPM Ad Agency and Ignition One.
IgnitionOne is one of the largest independent marketing technology companies in the world, currently scoring over 600 million users monthly in 75 countries and powering more than $60 billion in revenue each year for leading brands, including General Motors, CenturyLink, La Quinta and Acer, as well as advertising agencies such as 360i, GroupM and Zenith Media.
RPM Advertising is a full-service marketing communications firm that specializes in building traffic for experiential and retail-focused brands.  It will be piloting brands like Terlatto Wines and Majestic Hotel & Casino with Ternio at the time of launch.
We are also in discussions with some non-advertising related companies that want to leverage Ternio's Lexicon blockchain due to the high TPS ability.   These companies include P2P payments and marketplace trading.
Are there any key open positions that you are looking to close?
We are always looking for exceptional talent to join the team at Ternio.  If anyone is based in the Atlanta, Georgia area and has interest in working for Ternio, they can visit our jobs page to see open positions.
Others are welcome to follow Ternio on Youtube, Telegram, Twitter, Medium, or Reddit!
Disclaimer: The opinions presented here are of the Authors. Readers should do their own due diligence before taking any actions related to the promoted company or any of its affiliates or services. CoinScenario.com is not responsible, directly or indirectly, for any damage or loss caused or alleged to be caused by or in connection with the use of or reliance on any content, goods or services mentioned in this release.